The United States-China trade war is posing a fresh threat to hopes that Argentina's fragile economy can rebound before a presidential election in October.
President Mauricio Macri needs a bumper fall harvest worth more than US$20 billion in export revenue to pick the economy off the floor and give him fuel for a re-election campaign. While soybean prices have recovered some ground in the past two days, they are still near multiyear lows amid the escalating trade war, meaning Macri may not reap the full benefit of huge bean and corn crops.
It's all happening after a disastrous 2018, when a severe drought crippled production and weighed heavily on an economy that shrank 2.5 percent. The consecutive bouts of bad luck come after Macri, who took office in December 2015, freed farmers from the shackles of protectionist predecessor Cristina Fernández de Kirchner to help drive the economy.
Macri's woes have continued this year – including another currency rout, high inflation and a recession – and voters may put Fernández de Kirchner back in power in October's election, should she run.
With most industries struggling, Macri was banking on crop exports to prop up the peso, lift government tax revenue, and boost the economy. In turn, that could help him fend off the former president during the campaign.
Argentina could be set to lose US$1.3 billion in export revenue because of the plunge in prices, according to Gustavo López, an independent agribusiness consultant in Buenos Aires. But better-than-expected production would compensate the losses, and prices may surge if bad weather persists on US farms, López said.
Fewer dollars
Argentina can get hit in a variety of ways. Low soy prices mean fewer dollars for agriculture traders to sell on the currency market and less tax revenue at a time when Argentina is under pressure from the International Monetary Fund to achieve a primary fiscal balance.
The pain could come from elsewhere too. If the trade war sparks more turbulence in global financial markets, that could sink the peso like it did last year. Another peso plunge would doom Macri's re-election bid, pollsters say.
To be sure, Argentina also stands to benefit from China's tariffs on US soy as the Asian Nation steps up purchases of South American crops to make up for the American shortfall.
"The impact is going to depend on how all this volatility is managed," said Matias Carugati, chief economist for pollster Management & Fit. "If it's badly managed, it's going to have a negative impact on the polls" for Macri.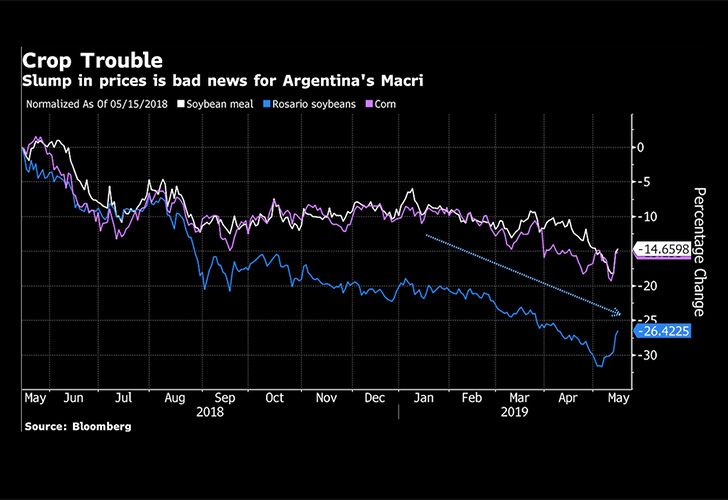 by By Jonathan Gilbert and Patrick Gillespie, Bloomberg
In this news